Laura
The RSW Series, utilizing WaveMax® Technology, will transform the way cities and municipalities light their residential streets, interchanges, and expressways. Customers now have the opportunity to utilize warm color temperatures for their street lighting needs without sacrificing efficiency.
Limited Warranty: 10 years
Efficacy: up to 127 LPW
Lumen Maintenance: Consult Spec Sheet
Lumen Output: 3300 – 5000 L
Wattage: 30 – 93 W
Please contact us to learn more.
Daniel Beck and Joe Thornton were pleased to attend the AREA show in Montgomery on April 12th.  Joining them were Jason Smolko with Hendrix Aerial Cable and Roger May with Utility Solutions.  Jason set up a spacer cable demo on our table and Roger brought his trailer packed with tools made by Utility Solutions.  Both are American companies and make their products in the USA! It was great seeing old and new friends!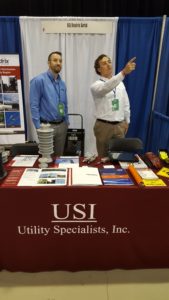 In the effort of continual commitment to supporting our products and demonstrating to the market our class leading reliability we are excited to announce that the ION7400 Utility Feeder Meter now includes a 10 Year Warranty!  This warranty not only covers all new sales of this industry leading revenue and power quality meter but also includes those already ordered in 2016.
This is a significant enhancement truly demonstrates the extremely low total cost of ownership.
Revenue grade accuracy and power quality monitoring with the highly flexible, compact PowerLogic ION7400 Feeder Meter. Gain visibility to essential operational data.
Improve electrical network reliability
ANSI C12.20 Class 0.2 revenue metering
Seamless integration, faster communications
Please contact your USI salesman for more information.