Laura
Southeastern Distribution Apparatus School
November 8 – 11, 2021
The Hotel at Auburn University
Auburn, Alabama
General Information
The Southeastern Distribution Apparatus School and Conference is sponsored by Utility Technology Association. The school provides a forum for electric utility technicians, engineers and managers involved in distribution, telecommunications, substation and apparatus departments to obtain high quality, practical and comprehensive training. The school provides a network opportunity to discuss common issues and new technologies with representatives from industry. The conference is open to anyone interested and involved in these areas.
The school is divided into four modules to better provide instruction for utility professionals at all levels of experience. The courses are designed for participants to select topics they require or have an interest in. Classes range from Fundamentals and Applications of Distribution System Apparatus for the substation or apparatus technician to SCADA, Communications and Smart Grid applications for the utility engineer, manager or technical specialist.
Module 100: Fundamentals of Distribution System Apparatus
This module provides instruction in basic distribution apparatus theory and application. Students will learn electrical fundamentals and power theory along with how the equipment works. This session should be attended by those who need to gain a better understanding of the components in an electrical distribution system. This module will help the student establish a good foundation for future classes.
Module 200: Principles & Applications of Distribution System Apparatus
This module provides a more in-depth look of the individual distribution apparatus equipment used in the substation and on the distribution feeders. The sessions will emphasize why the equipment is used and how the equipment functions. Distribution equipment included in sessions will be regulators, breakers, transformers, capacitors, arresters, switchgear and reclosers along with classes on system protection and protective grounding.
Module 300: SCADA, Communications & Cybersecurity
This module provides instruction on the principles and equipment of a Power System SCADA system used for the monitoring and control of an electrical distribution system. Includes sessions on Cybersecurity, Fiber Optic Communications, Big Data, IoT, Enterprise Data Management with Asset Performance Management , Wireless Technology, Ethernet Communications.
Module 400: Smart Grid, Engineering & Emerging Technology
This module will examine the initiatives and engineering applications of electric utilities. Session topics will include Distributed Energy Resources, Data as System Reliability Tool, Underground Design, Arresters, Transformer Loading, Wildlife Mitigation, EPRI Projects, Electric Vehicle Outlook for Utilities. Also will be an in-depth discussion on Power Quality issues and solutions of the electrical distribution system.
Both classroom and hands on experience opportunities are included. The courses are designed for participants to select topics they require or have an interest in.
Professional Development Hours
The Southeastern Distribution Apparatus School and Conference will award 18 professional development hours to participants attending the entire school.
Exhibit Hall
The Exhibit Hall will be open Monday through Wednesday. All the suppliers you need to meet will be in one place to answer your questions and demonstrate their products.
Day Participant Program
This provides an opportunity for management (general managers, purchasing agents, operation managers, engineers, etc.) to attend one day for a reduced charge. Come on any day and attend a few classes, then enjoy an evening of hospitality in the exhibit hall.
Location
The Hotel at Auburn University and Dixon Conference Center is centrally located three miles from Interstate 85. The Hotel at Auburn University is situated in a charming university campus environment within easy walking distance to many shops and restaurants in the quaint, historical downtown Auburn, Alabama.
Find out more about the hotel at www.auhcc.com.
Keynote Speaker
Michael Pesin
Deputy Assistant Secretary, Advanced Grid Research & Development
US DOE Office of Electricity Delivery & Energy Reliability
Conference Info
2021 School Program
General Information and Agenda
Exhibitor Registration Information
Class Schedule
Event Safety Guidelines
Hotel Info
The Hotel at Auburn University
241 South College Street
Auburn, Alabama 36830
Phone: 800-228-2876
Code: 210815APPA

2021 Hotel Reservation Link
2021 School Hotel Reservations Open Now. Use The Link Above
Contact Info
Utility Technology Association
Suzanne Powell
P.O. Box 695
Clermont, Georgia 30527
770- 519-1676
suzanne@utilitytech.org
Planning Committee
Brian Chandler, City of Troy Utilities
Bob Cheney, Alabama Power – Retired
Chris Crawford, Superior Power Products
Ernie Thomas, Okefenoke REMC
George Dobbins, Alabama Power Company
Mark Ennis, AMEA
Mary Hester, Intelligent System Solutions
Joe Hall, CRESTA
Scott Johnson, Georgia Power Company
Chip Kanour, Utility Specialists, Inc.
Jack Kelley, Tri-State Utility Products, Inc.
John Moore,Coweta-Fayette EMC
Suzanne Powell, Utility Technology Assn
Nicole Sullivan, Patterson & Dewar Engineers
David Swafford, Southcon
Lonny Whitley, Satilla REMC
Robbie Young, Snapping Shoals EMC
Utility Specialists is glad to be attending the FMEA Energy Connections conference in November. Hope to see you there.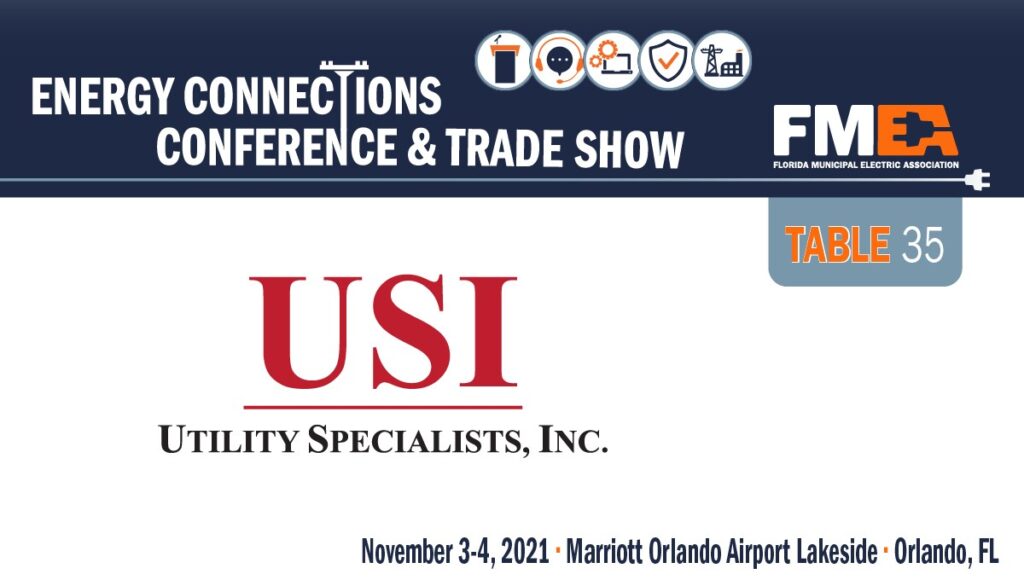 USI is proud to represent Sternberg Lighting in AL, FL, GA, MS & TN. Sternberg Lighting designs and builds decorative and functional outdoor pole mounted luminaires that use the latest technology to provide efficient and cost-effective lighting solutions. Sternberg Lighting is a US manufacturer.
USI is pleased to represent HV Technologies, Inc. in the southeastern states of Alabama, Florida, Georgia, Mississippi and Tennessee.  Please contact us to learn more.