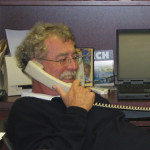 In 1972 Rolla Earl (Reb) Beck graduated from Law School at the University of Alabama.  He was sent off to Military Police School in the US Army as part of his ROTC agreement.
With the Vietnam War winding down, the Army was overrun with MP's and didn't need any more lawyers so Reb was allowed to shorten his stint and return home. After passing the Bar in Alabama Reb took a "short term job" with his father's company, Beck Sales Company and never left.
Reb began the life of a traveling salesman selling the products that Beck Sales represented across the southeast US. Much of his time was spent calling on cooperatives and municipals as there were older salesman covering Alabama & Georgia Power at that time. As time marched on, Reb found his calling as a salesman. He loved the interaction with customers and being able to fill their needs with products and advice. His sales grew and he was able to eventually take over Alabama and Georgia Power when the older guys retired.
In 1986, Utility Specialists spun off from Beck Sales Company and continued with the mission of providing electrical equipment to utilities. Beck Sales continued with the manufacturing of some of that equipment and helped USI to grow as a sales agency. And grow it did. From having two outside salesmen to now having 9 and needing more, USI has grown to where we represent over 30 manufacturers of quality electrical equipment to the utility marketplace in 5 southeastern states.
Reb had the vision and the ability to see what was the potential in any product and in any customer. That combined to make USI one of the best sales agencies in the industry. The management and direction of Reb set us on a course to continue to stay at the top of the industry.
Reb passed away on March 6th, 2021 after a long battle with COPD and Lung Cancer. He was stalwart in his faith to the end and making business phone calls up to two days before his passing. He will be missed but he assembled a crew to continue his and his father's legacy of providing excellent customer service in a fun and honest way. We look forward to staying the course.