Laura
NEW Grounds-Trainer Personal Protective Grounding Simulator 
Utility Solutions, Inc has introduced a new grounding simulator specifically designed for utilities and lineworkers. USI has developed a new desktop trainer called the Grounds-Trainer Personal Protective Grounding Simulator that combines hands-on jumper connections with a powerful computer simulation. Personal protective grounding is a highly complex and often misunderstood subject. Textbooks have difficulty illustrating the effects of a fault on a distribution system. The Grounds-Trainer simulates an overhead distribution system with several variables. Lineworkers can learn the principles of grounding, proper work methods, and simulate the effects of a fault at a work site.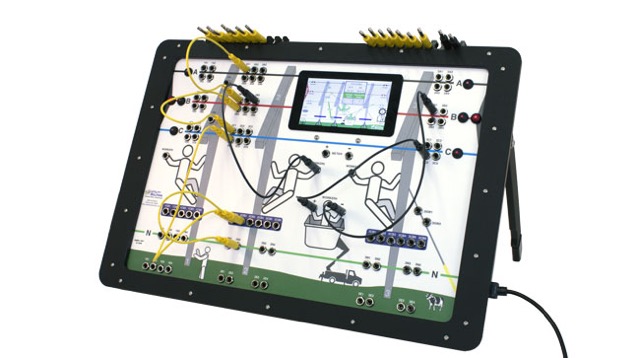 Please contact us to learn more.
Murray@utility-specialists.com
(800) 733-4837
A mainstay with utilities for 20 years, Lindsey's line of sensors provide exceptionally reliable and highly accurate voltage and current monitoring for substation, overhead, padmount, and submersible underground distribution applications.  At 0.5% accuracy, Lindsey is the most accurate sensor on the market.  This accuracy gives utilities even better visibility into grid operations and the ability to maximize the benefits from their VVO/CVR investments.  Lindsey is an American manufacture located in California for over 80 years.
Murray@utility-specialists.com
Utility-Specialists.com
(800) 733-4837
Click below to learn more about Lindsey Sensors or contact us to discuss your particular needs.
The Valmont/Shakespeare Safe Fence Product has been helping utilities with their substation fencing needs for many years.  This versatile, non-conductive product can be used to meet all your substation needs (grounding, noise reduction, aesthetics and ballistic security).  Another huge advantage to Safe Fence is that it is manufactured in the U.S.A. – in Newberry, South Carolina.
If you have any questions or need additional information, please contact Utility Specialists, Inc. at 800 733 4837 or email murray@utility-specialists.com
SafeFence Substation Barrier System Protects People and Utility Assets.
https://www.skp-cs.com/products/safefence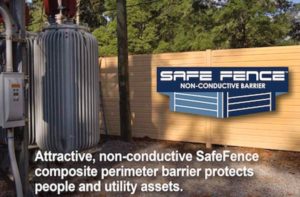 AZZ is a leading manufacturer of durable and reliable modular enclosures (e-houses).  AZZ's Power Distribution Centers, Control Centers, and Custom Enclosures are available in both standard and custom sizes and configurations. With manufacturing facilities in Kansas and Tennessee to serve you, AZZ is well suited to meet the most demanding delivery schedules.
From the harshest environments to the most unique applications and complex configurations, AZZ's quality standard and custom-engineered enclosure systems keep equipment at peak performance and extend its operating life!
Utility Specialists Inc. is proud to represent AZZ Enclosure Systems.  Please contact us with any of your enclosure needs.
Murray@Utility-Specialists.com
Utility-Specialists.com
(800) 733-4837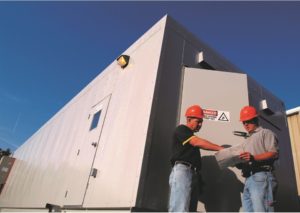 This is an information update to let you know what we at USI are doing to support you and provide needed products and information during this unprecedented time.
As new information is coming out daily and requirements are being updated, we want you to know that we are continuing to work and communicate with our factories on your behalf.  We are continuing to stay in touch with you in various ways but in response to the request for not having face to face contact any more than necessary, we have curtailed personal visits for the time being.
Our staff has the ability to work from home and most are doing so now.  We have our phones forwarded as needed and our emails connected as well.  We operate mostly through "the cloud" so most of that has not been affected and we are able to continue with our tasks almost seamlessly.
We are staying up to date with our factories to know what they are doing and how this is affecting them.  We have had very few supply chain issues and are confident that we will be able to continue to supply your needs in the normal fashion.  If we see this changing, we promise to alert you as quickly as possible.  As lead times are already extended, we encourage you to continue to monitor your needs by forecasting and ordering in a timely manner.
My main message is that we are open for business and are striving to keep the products and information you need coming your way.  We will constantly monitor the changing situation and adjust as required to do the best job that we can for you.  If you see something that we can do better, we are happy for new ideas.
As always, if you have any questions or concerns, please let me know.  We appreciate you and your help during this situation and know that we will all come through it by working together.
Sincerely & God Bless us all,
Murray Beck
President
Utility Specialists, Inc.
(205) 243-6910 Cell
At Electromark, the goal is to be your partner for all of your safety and hazard identification needs, providing high-quality, durable signs, labels, and tags. Beginning in the nuclear industry in the 1970s, Electromark (HQ in Milwaukee) has been providing electrical utilities with trustworthy service and durable safety solutions for 45+ years. We provide solutions to fit your need to alert, protect & inform, while complying with regulations and standards, and meeting/surpassing industry compliance requirements (OSHA, ANSI, UL, ISO, etc.).  If you can't find a product to meet your specific application, let's work together to design+create your custom solution – we are confident in our ability to customize, innovate, and standardize solutions.

Electromark offers expert sales support, innovative R&D, extensive industry knowledge, and responsive customer service.  Instead of pushing a one-size-fits-all product, Electromark provides solutions to improve the safety and reliability of your services.
Daniel@Utility-Specialists.com
(800) 733-4837
https://www.electromark.com/    –    Electromark website:
https://www.electromark.com/productbrochures     –  Individual applications
https://www.electromark.com/resource-center     –    Resource Center
Utility Specialists Inc. is proud to represent the Marmon Utility Company and all their American Made Ingenuity. Their three divisions of Medium and Hi-Voltage Underground Cable, Molded Products/Insulators and Aerial Spacer Cable Systems have been helping utilities for many, many years.  Their plants located in Milford, New Hampshire and Seymour, Connecticut are ready to meet any of your utility needs to help you bring reliable power to your customers. If you have any questions or need additional information, please do not hesitate to reach out to us at Utility Specialists Inc. (800) 733-4837.
Wherever utilities face a challenge, we are there.
Think of Marmon Utility as a family of solution providers and risk-reducers for utilities across the country and around the world. The common attribute among our customers is their reliance on us for a seamless product-service continuum that combines (and coordinates) engineering, project design, delivery, installation, training, testing, monitoring and more capabilities than one ad can describe. Look into Marmon Utility, and see how reliability goes to work.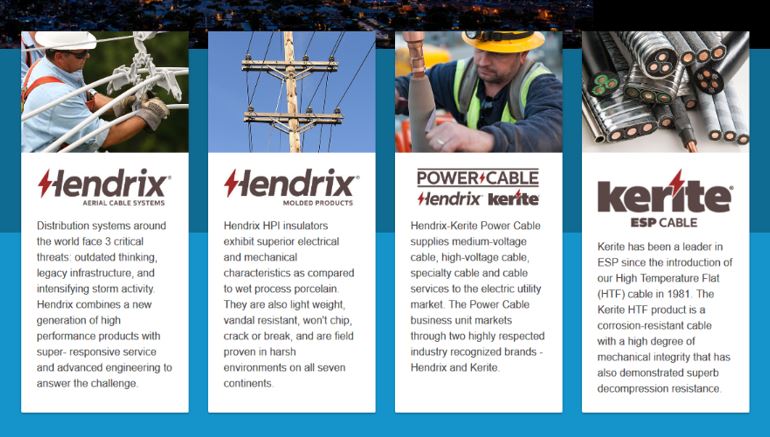 USI is proud to have represented The Durham Company for nearly half a century!  During those years Durham has become the primary domestic supplier of high-quality cabinets used by electric power companies.  We also offer Test Switches, Instrument Transformers, and Electrical Connectors. The Carr family has owned Durham since 1960 and continues to be actively involved with daily operations.  Innovative products below include both a primary metering cabinet and sectionalizing pedestal, trans sockets, CT's and PT's, mechanical transformer connectors and an extender bar.  Contact us for more information. 800-733-4837 – Joe Thornton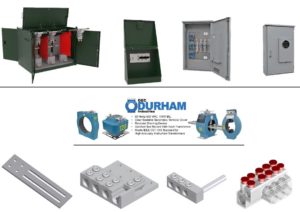 The Board of Utility Supply Management Association had a conference call this afternoon and after deliberation determined that the conference in Nashville, scheduled for May, will be cancelled.
We expect the organization's website will give more details as soon as possible.
As a measure of caution due to the Corona Virus and since many utilities are curtailing travel, the Southeastern Meter School & Conference previously scheduled for next week has been postponed until August 17 – 20 in Auburn, Ala.  Please let us know in the meantime if you have any metering related needs that USI can assist.  Our manufacturers are looking forward to supporting the school this summer!  Thank you for your understanding.  USI – (800) 733-4837