Inventor, Innovator, and Leader of Aerial Cable Systems for more than 65 years.

August Newsletter
In this month's newsletter we are highlighting storm event that demonstrates our value and most importantly, our "reliability". In the consumer market, reliability is assumed but often disappoints. We expect it in our vehicles, appliances, airlines and many other things that affect our daily lives. Unfortunately, we are often conditioned to accept a lower standard of reliability.
My wife and I were recently in the market for a new refrigerator as our 24 year old Whirlpool was starting to act up. During our shopping experience we were dazzled by all the bells and whistles now offered by the manufacturers – internet in your refrigerator? No problem. Television on the door? No problem. See through doors? No problem. They have it all!
However, like most consumers, I go to the internet for research and feedback on any major purchase. What we found was shocking and very concerning. The high end models with all the features had only 50% favorability ratings and many angry customers complaining about break downs and extremely poor customer service! In fact, the high end foreign brands received the worst reliability ratings. What I found was if you're looking for a refrigerator with an expected life greater than ten years……major problem! We were told countless times that we should get a solid ten year life out of our new $2400 dollar refrigerator as if that was a good thing! Quality and reliability are sometimes secondary considerations with many manufacturers today. Fortunately, we at Marmon Utility don't buy into that philosophy.
Our Hendrix and Kerite brands have quality and reliability built-in, and we continuously improve upon it year after year. Why? Because reliability is what sets us apart from any other cable manufacturer…it's who we are!
In the project feature below, you will read about the City of Monroe who recently experienced a severe storm and the reliability of Hendrix Aerial Cable Systems proved itself as it has done since the 1950's. We also review the advantages our service and field support bring to our solutions enhancing the reliability of our systems. We have answers for impossible jobs and continue to strengthen the grid through our proven reliability.
After all, we aren't making appliances, but we do keep them running!
Rick Simpson
VP of Sales
Marmon Utility, LLC.
Upcoming Trade Shows
Tennesee Public Power Association (TVPPA)
TVPPA will be hosted in Chattanooga, TN on August 9 – 11.
Jason Smolko will be doing a presentation on Spacer Cable vs. Bare wire and Scott Graves will be focusing on Line Posts: "The Lighter Alternative."
Western Underground Conference (WUC)
Get out your suitcases and come visit! It will be held on September 12-15 in Alburqurque, NM.
Solar Power International (SPI)
Solar Power is a growing industry – please visit our Booth #724 on September 11-14 in Reno, NV. We have the distribution solution for utilities growing needs.
ICUEE
One of the largest utility conferences in the North America – Come see us at booth #1734
All 6 Business Units will be in attendance.
October 3,4 & 5 in Louisville, KY.
We hope to see you there!
Project Feature
Hendrix Aerial Cable Systems provides quality and reliable systems to communities all over the world. Yes, that means all 7 continents. We come across images of our systems that are incredibly powerful, in so many ways, as each image reflects diverse stories behind them.
Businesses (local and large) and citizens who rely on power for so many different reasons continue to be our main focus at the end of every day (and that includes weekends).
"We just want to Keep The Lights On" – Bob Biddle, GM of Marmon Utility, LLC.
The story below, is just one of many examples that continue to motivate us to exceed all customer expectations and to deliver an excellent, reliable product that can withstand any challenging issues – especially trees.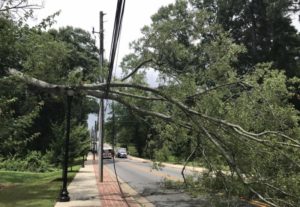 Photo: Courtesy of City of Monroe, GA
"I recently visited the city of Monroe, GA after hearing that they had a recent outage on a Hendrix line when a tree limb hit the line. This city has many Hendrix circuits, so I was a bit concerned…at first. Before I saw the image (below) I was imagining some small branch hitting the line and causing some unexplained outage… but that simply could not be further from the truth.
Half of a very large tree crashed into the circuit with a direct hit on an existing URD tap connection. The messenger was ripped from the adjacent tangent bracket and the tree broke the one phase conductor at the tap connection location.
Other than the one broken phase conductor, everything else stayed in the air. The power was out for approximately 3 hours and 2.5 of those hours were spent removing the tree.
With a quick splice and new tangent bracket, the city had the line back up and powered again in no time flat. The engineering manager expresses absolutely zero fault on Hendrix's part and actually believes that the system performed very well.
A direct hit of this magnitude would have destroyed everything on a bare wire circuit and would have made a complete mess; not to mention potential tree fires, exposed wires to the community and traffic issues. The required clean-up and restoration was fast and minimal with the Hendrix system in place."
Hendrix Can Handle It. Written By: Jason Smolko
Product Recognition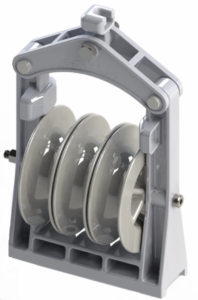 3 Sheave Block
This valuable tool allows line crews to pull the system more efficiently.
Highlights include:
• Lightweight Aluminum frame
• Quick Disconnect positive lock pins for easy access to rollers
• Universal socket eye to attach ball type to hardware
• Cable Jacket friendly nylon rollers
• Allows installation of all 3-phase conductors simultaneously.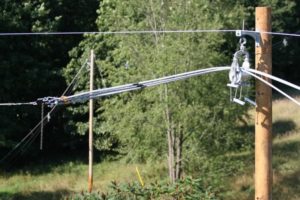 Hendrix Aerial Cable Systems
53 Old Wilton Rd, Milford, NH 03055 | 603-673-2040
www.hendrix-wc.com/acs
Southeastern Distribution Apparatus School & Conference

September 18 – 21, 2017

The Hotel at Auburn University

Auburn, Alabama

The 2017 Southeastern Distribution Apparatus School and Conference is sponsored by Utility Technology Education.

This years' school will truly be an outstanding educational opportunity for all who attend.  Great training and hands on learning opportunities are provided from a variety of educational sessions.

This conference is divided into concurrent modules to better provide instruction for utility professionals at all levels of experience. Attend any class from the different modules. The courses are designed for participants to select topics they require or have an interest in. Classes range from Applications of Distribution System Apparatus for the beginning substation or apparatus technician to SCADA, Communication and Smart Grid applications for the more advanced technician, engineer or manager.

Professional Development Hours 

 

Utility Technology Association will award 18 Professional Development Hours to participants attending the entire school.

The Hotel at Auburn University

 

The Hotel at Auburn University and Dixon Conference Center is centrally located three miles from Interstate 85.  The Hotel at Auburn University is situated in a charming university campus environment within easy walking distance to many shops and restaurants in the quaint, historical downtown Auburn, Alabama.  (800) 228-2876   

Hotel Reservation Link   ||  Group Code: 170917APPA

Exhibit Hall Information

The Exhibit Hall will be open Monday, September 18 through Wednesday, September 20. Exhibitors wishing to display their products must register for a booth.

Breaks and evening hospitality will be held in the Exhibit Hall.  The cost of the registration includes one table with electric service, wireless Internet access, two lunches, annual dinner, pre and post electronic participant list, and conference schedule for one individual. A company can purchase a pass for additional exhibitors and additional exhibit tables. Exhibitors need to obtain registration information from the school website.  

Registration Fees

| | |
| --- | --- |
| Student | $395 |
| Student – One Day Only | $195 |
| Displaying Exhibitor | $525 |
| Hosting Exhibitor | $325 |
| Additional Exhibitor | $195 |

Planning Committee

| | |
| --- | --- |
| Brian Chandler | City of Troy Utilities |
| Chris Crawford | Superior Power Products  |
| Darren Crews | Okefenoke REMC |
| Mary Hester | Intelligent System Solutions |
| Scott Johnson | Georgia Power Company |
| Chip Kanour | Utility Specialists, Inc. |
| Jack Kelley | Tri-State Utility Products, Inc. |
| John Moore | Coweta-Fayette EMC |
| Freddy Morgan | Marietta Power |
| Joe Schatz | Southern Company Services |
| Greg Seagraves | Independent |
| Nicole Sullivan | Patterson & Dewar, Engineers |
| Lonnie Whitley | Satilla REMC |

Utility Technology Education

Modules to Choose Classes From

Module 100: Fundamentals of Distribution System Apparatus*

This module provides instruction in basic distribution apparatus theory and application.  Students will learn electrical fundamentals and power theory along with how the equipment works. This session should be attended by those who need to gain a better understanding of the components in an electrical distribution system. This module will help the student establish a good foundation for future classes.

Module 200: Principles & Applications of Distribution System Apparatus*

This module provides a more in-depth look of the individual distribution apparatus equipment used in the substation and on the distribution feeders.  The sessions will emphasis why the equipment is used and how the equipment functions. Distribution equipment included in sessions will be regulators, breakers, transformers, capacitors, arresters, and reclosers along with classes on the insulating mediums used.

* Module 100 & 200 will be combined this year.

Module 300: SCADA and Communications

This module provides instruction on the principles and equipment of a SCADA system used for the monitoring and control of an electrical distribution system. This year includes session in Cybersecurity, DNP3 Applications, NERC CIP-014 Requirements, Feeder Automation, Fiber Optics, MPLS and TETRA for Utilities.

Module 400: Engineering Topics and Emerging Technology

This module will examine the initiatives and engineering applications of electric utilities. Session topics will include Grid Architecture, Stray Voltage, Multi-Utility GIS, Grid Resiliency, Reliability & Restoration, Sensors & Analytics, MicroGrid Projects and Transformer Testing. You will be able to learn about new field technologies such as Augmented and Virtual Reality. Also will be an in-depth discussion on Power Quality issues and solutions of the electrical distribution system.
Utility Technology Association is a 501c6 non-profit organization dedicated to the delivery of high quality, practical and comprehensive training designed to meet the needs and  challenges of today's electric utility industry.
The RSW Series, utilizing WaveMax® Technology, will transform the way cities and municipalities light their residential streets, interchanges, and expressways. Customers now have the opportunity to utilize warm color temperatures for their street lighting needs without sacrificing efficiency.
Limited Warranty: 10 years
Efficacy: up to 127 LPW
Lumen Maintenance: Consult Spec Sheet
Lumen Output: 3300 – 5000 L
Wattage: 30 – 93 W
Please contact us to learn more.